Adopt a Tree Campaign.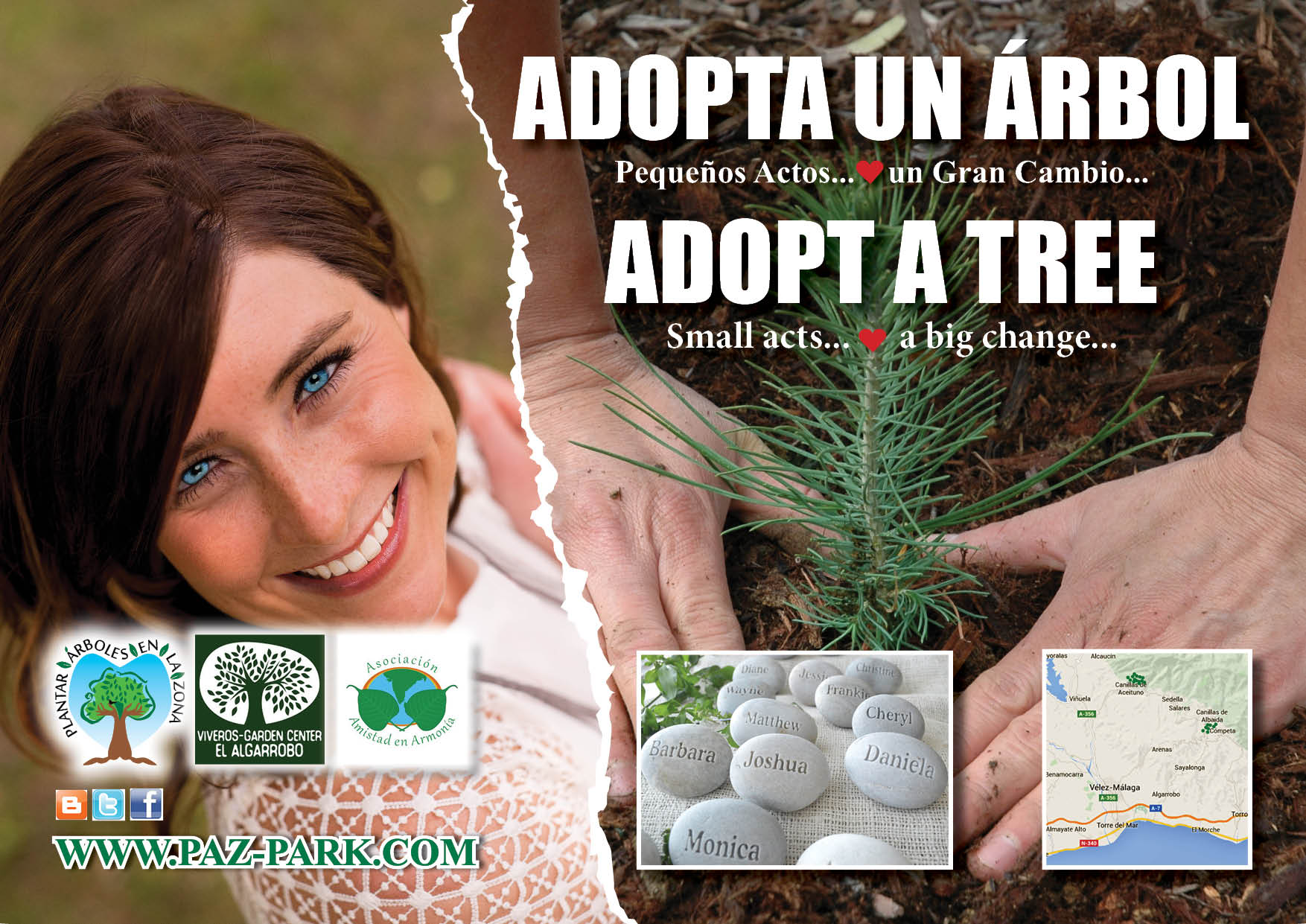 Fusion of 3 organizations (Association Paz-park, Association Amistad en Armonia and Vivero El Algarrobo) with the aim of reforesting national park burned areas in the Axarquia, (08/2012) Canillas de Acietuno, and (06/2014) Cómpeta. All 3 organizations having the deep wish to plant trees in the area and repay mother earth, and ensure a green future. This is the main aim of why we decided to join forces for this project, and make sure that our goals will be reached together.
The Association Paz Park and Amistad en Armonia know each other from previous years were they have planted many trees together.
In the next years we have decided to plant different variety of trees like: pinus – halepensis, Carob, wild olive, pinus – pinaster, pinus – piñonero, Arbutus unedo, salix, adelfa, Nerium oleander, Amelanchier ovalis guillomo…..etc. makeing sure that those trees are planted in the reforested areas to benefit the natural environment and the wild animals.
The reason for the donation campaign "Adopt a Tree and Important Green Day" is to ensure the planting of a variety of different trees suited for the affected areas that are being reforested. So far we are not supported by any of the government organizations with any grants. We are funding the projects with the donations raised in different campaigns.
Always improving the way of planting. We will experiment a molecule called "Poliagua" which will be sponsored from Vivero El-Algarrobo, that holds water and expands 300 times its size storing water in the root area. This will enable the young trees to have more chances of getting through the very dry summers.
The campaign "Adopt a Tree" will be for the whole of 2016. Adoption Certificates are available for donating and adopting a tree, in different places, so everybody will have a chance to adopt a Tree. You can find the Adoption Certificates in English and Spanish in Vivero El-Algarrobo, la Vinuela, Association Amistad en Armonia, and of course Association Paz-Park.
The donation for the Adoption Certificate can also be acquired online through pay pal on the Paz-Park website.
http://www.paz-park.com/
You can also send us an email with the name you wish us to paint on the peronalised stone, and we will place the stone next to the tree you have adopted and send you a photograph.
for more info: info@paz-park.com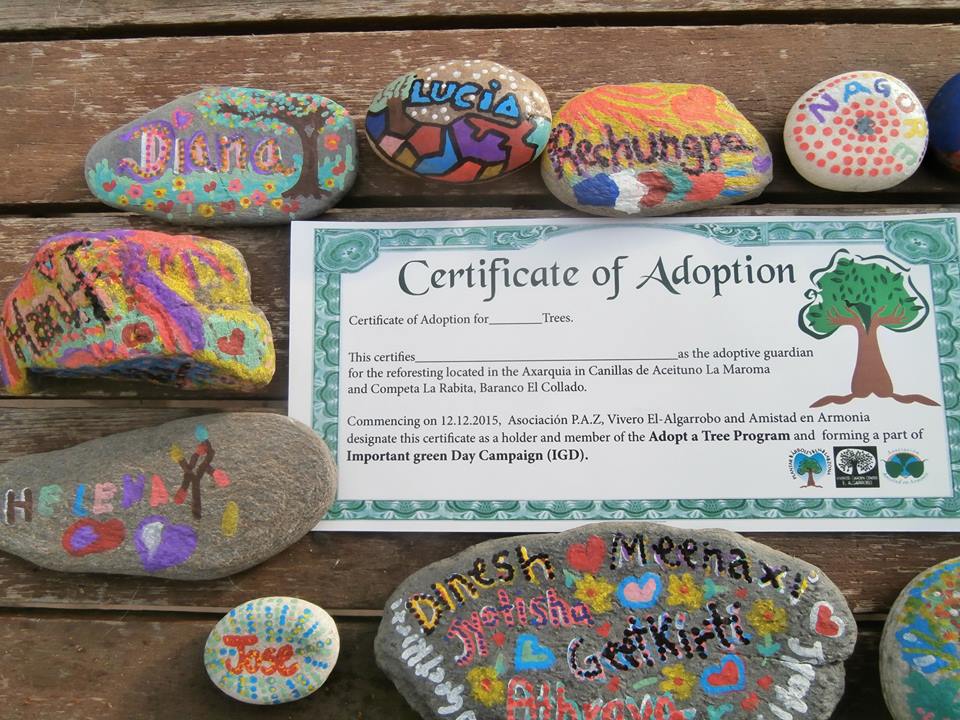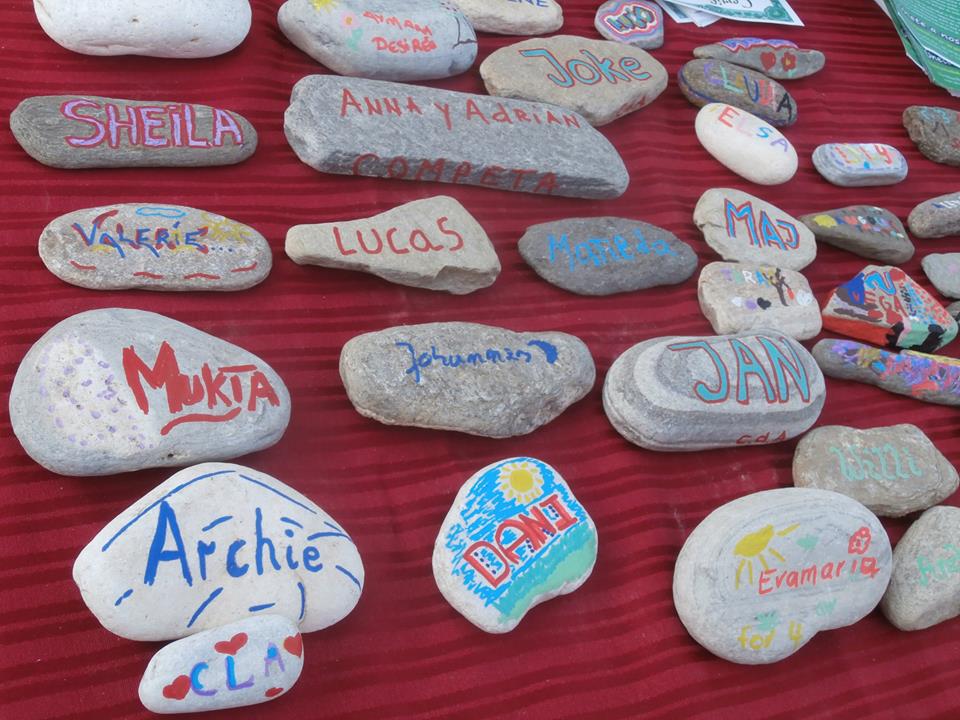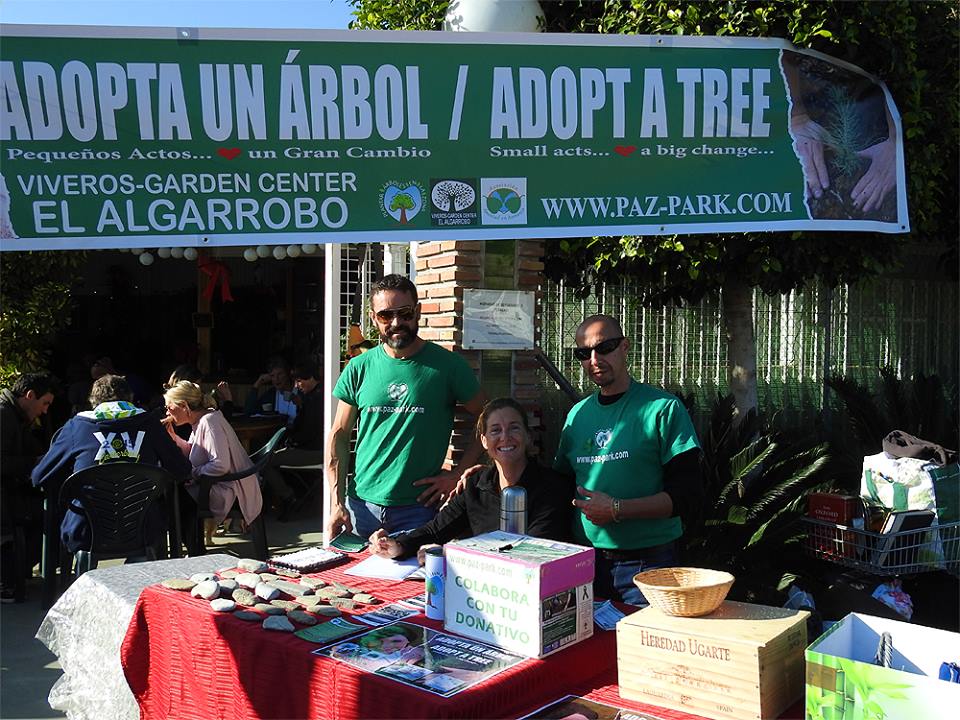 THANK YOU VERY MUCH FOR ALL YOUR HELP AND WE HOPE THAT YOU CAN COME AND PARTICIPATE WITH US IN THE PLANTATION OF THE TREES.